RHSF and Child Labour: Raising youth awareness is key
Published on May 30, 2022
BY GUY CLAVEL
In June 2021, the number of child labour victims worldwide reached 160 million, an increase of 8.4 million children over the past four years, according to a report by the International Labour Organization (ILO) and UNICEF.
RHSF has been fighting against this scourge for more than 10 years, notably by acting with multinational companies and their subcontractors. But this long term fight can only be won by raising awareness among young people – all young people. In France, in Australia…
Young people "not concerned". And yet…
 One observation: when asked about the problem of child labour, students in three middle school classes in Toulouse and its suburbs clearly recognize that they "don't feel concerned," report two RHSF workers, Lara Wicquart and Elisa Réau.
A lesson: however, during their discussions-training with RHSF, these young people proved to be "very interested" and expressed their empathy with children at work. They picked up on themes that affect them directly: no or little school, no play, hard and dangerous work… And they asked what they could do to contribute. 
This awareness-raising session, also run in a school in Australia, showed that the youngest audiences could open up to this issue, take an interest in it, and react to it, as long as it was approached with words and situations of their age. RHSF's idea is to tackle economic issues, such as consumer responsibility without making them complex for the youngest.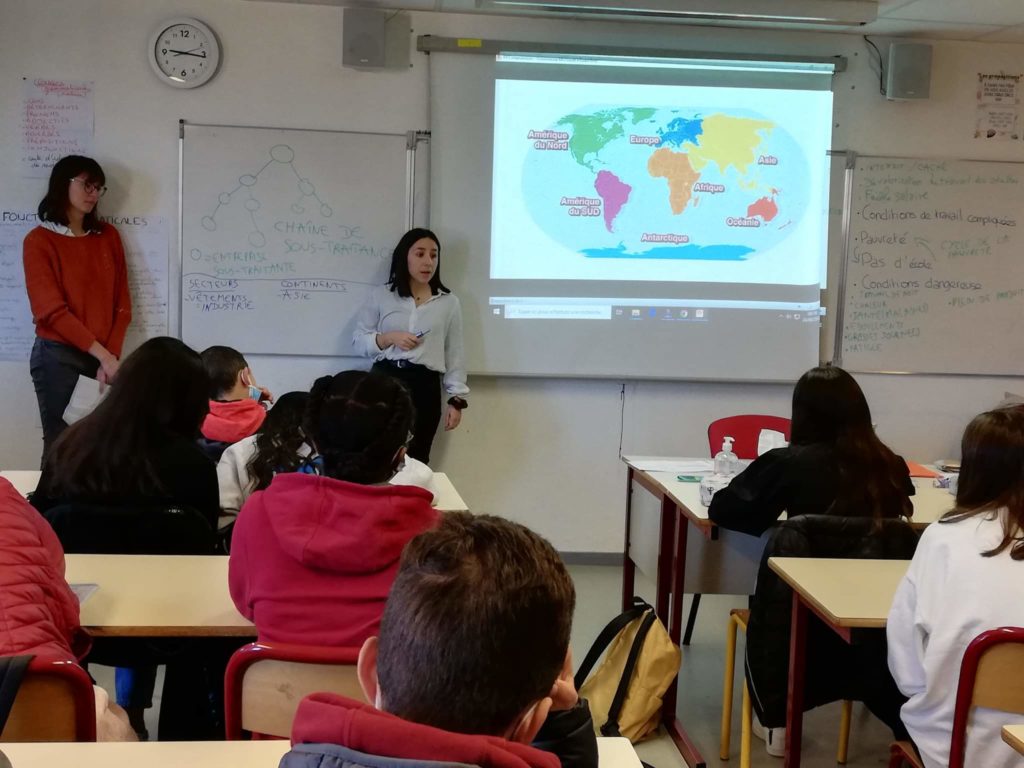 RHSF at school
RHSF intervened in the framework of the "Parcours laïque et citoyen 2022" (Secular and Citizen Path 2022) of the Haute-Garonne Departmental Council, a program inviting associations to "propose original and innovative actions, intended to promote the principle of secularism and the values of the Republic" to young students in the department.
By working on "child labour", the students "look back at the 19th century in France, reflect on the contributions of the French secular school and the right to be protected from child labour", underlines Estelle Eeckeman, responsible for the project at RHSF. "The educational activities are linked to the students' daily lives and the History-Geography and Civics programs," she notes. They are based on animations and constant interactions with the students, who are placed in a position of actors.
The topic, Lara notes, first opens them up to another world. With the two videos shown at the beginning of the presentation – cobalt mines in the Congo and the telephone industry in China – they discover that other children live in a different way.
Reading the testimonies of working children in several countries, in different economic sectors, also struck them a lot, notes Elisa: "They aren't so like as us!" declares a student when he learns about the living conditions of these children, the fact that they don't go to school, the low wages…
Opening young people to the issue of child labour 
At the end of a morning session, students were gathered in small groups to write a letter to one of their "idols": a sportsman (Mbappé), youtubers (Nasdas, Dylan, Fertile Fish)… They asked them to act against child labour. In their messages, we discover the themes that struck these students in the Elisa and Lara's presentation. And thus the themes that affected them most and those that need to be reworked or approached in priority based on the age of teenagers as they were badly understood, or when they aren't concerned.   
The letters show that the children discover concrete ways to act at their level. One of them is to talk about child labour around them, which they put into practice by calling on their idols to talk about the subject in turn. The complexity of the phenomenon nevertheless confronts them with difficult questions: what if products with excessively low prices hide abusive working conditions? How can we understand that buying expensive "brands" is not a proof of respect for social rights in the subcontracting chain? The subject of the role of consumers is complex, requires time and must be approached with young people in a progressive manner according to their age.
Among the ideas exposed by RHSF, and not taken up in these letters, is the complexity of production systems (subcontracting, transport…). They also miss the responsibilities of "consumers", which they are not directly, at the age of 12 – 15 years. If they express themselves on the products they want to own, they don't buy them (their parents do…). How can they, nevertheless, understand that a very cheap product hides child labour, and that at the same time buying expensive "brands" is not a proof of respect of social rights in the subcontracting chain?  
On the other hand, the fact that "one child in ten is working in the world" carried. 
And they were shocked by the living conditions of the children seen in the videos, or whose testimonies were read. "They work a lot, in very bad conditions. They are human beings like us," remarked one group. 
For other students, "their work is dangerous, poorly paid, exhausting. It keeps them in misery".
They have "very few vacations, cannot go to school", or they "work from a very young age for a miserable salary", they write in other messages.
"We have seen young children working in difficult, sometimes terrible, conditions in order to live. We find this unfair," one group said.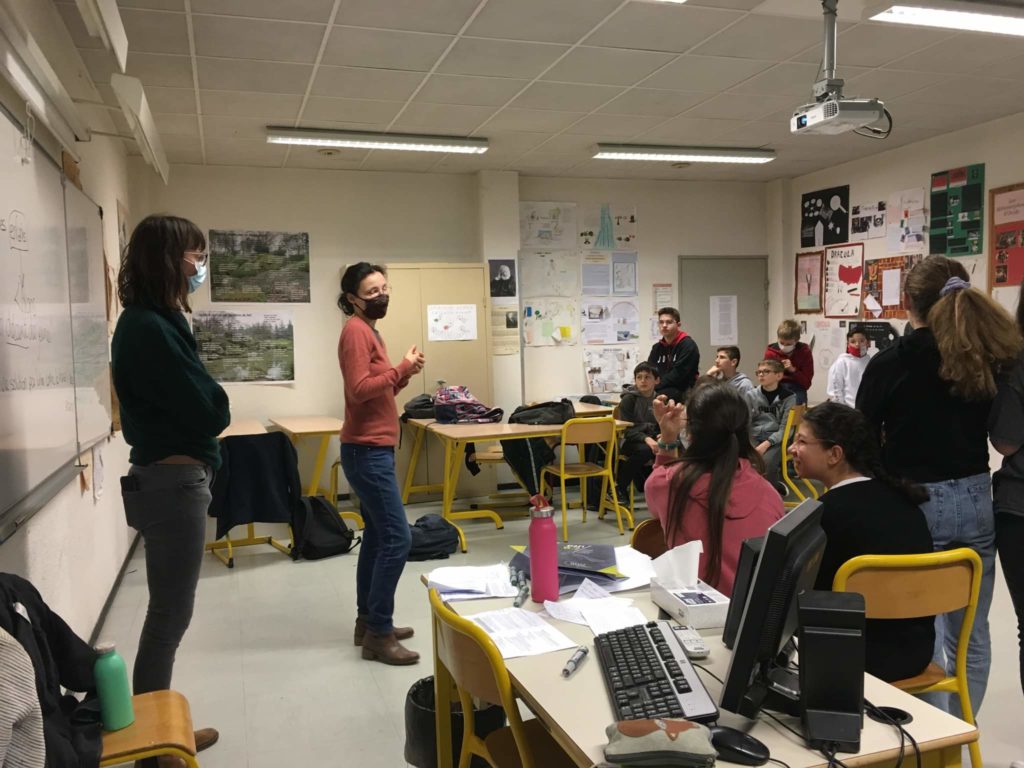 These students, who said they were "not concerned" about child labour at the beginning of the session, were impacted by RHSF's presentation, which confronted them with the unfortunate plight of children their own age. 
"We were touched to see that children risk their lives to make our phones and so many of our everyday items," some wrote.  "We are all affected by child labour: our phones, clothes, food… can be the result of child labour. This is not normal," say others. 
"We must act, it is no longer possible… to accept living conditions like this", say other students, addressing their idol, the youtubeur Poisson Fécond.
In Australia, teachers get involved
In Sydney, RHSF General Manager Magali Croese is going even further by involving teachers. 
After an intervention in a class of CM2 (10-11 years old) at Lycée Français (local French High School), she started a process of co-designing a pedagogical kit with the teachers of the CM2 classes of the school, to accelerate the awareness of young people to child labour. This teaching kit will allow any primary school teacher (CM1-CM2) to run an independent awareness-raising session on child labour by "integrating it into the teaching program, with ready-to-use resources and sufficient flexibility for each teacher to find an interest in it in his or her teaching sequence," she explains.
These interventions in schools are part of RHSF's multiple actions to raise awareness among different audiences, different actors, in various economic or social sectors, to the fight against child labour and forced labour. To raise awareness at all levels.  Faced with the complexity of their causes, RHSF joins forces with strategic partners to deploy large-scale awareness-raising actions.
Thus, RHSF cooperates with the French National Consumer Institute and its magazine "60 millions de consommateurs", so that it can formalize its methodology for integrating the risks of child labour and forced labour in its comparative evaluation of products.  With its partners, networks of professionals, investors or companies, RHSF raises awareness and trains company employees in a position of creating the conditions for subcontracting chains that respect the rights of employees. In order to reach out to all those involved in the system – workers, unions, employers, administration – RHSF partnered with the International Labour Organization (ILO) to organize a second international cartoon competition on forced labour. The travelling exhibition was already presented during the 5th Global Conference on the Elimination of Child Labour, in Durban as well as during the 110th session of the International Labour Conference, in Geneva, in May and June 2022.
Intervening in schools means introducing future consumers, business leaders, decision-makers to these issues from an early age… 
RHSF in the field ! For more than 15 years, RHSF's mission has been to prevent the risks of child labour, forced labour, and more broadly indecent work in supply chains. RHSF offers a holistic response to these complex, global and often ignored issues. To truly change this system that leads to unjust individual situations, RHSF works to develop and test innovative solutions in the field. Its mission also includes sharing expertise because RHSF is convinced that everyone, at their own level, can make a contribution. Raising the awareness of as many people as possible is a real challenge. In order to reach multiple audiences, RHSF develops awareness-raising tools and training to mobilize everyone in a voluntary and constructive manner: from consumers to employers and workers, and even the youngest. Awareness raising, capacity building and experimentation are the three main activities of RHSF that feed and complement each other to alert and engage in action all those who wish to work for decent work along supply chains. Members, teachers, young people, join the movement, check out our resource center to experience our tools and raise awareness around you!