RHSF launches the Explorer, an interactive platform to raise awareness of child and forced labour risks
Published on Nov 26, 2020
As we approach the end of the year, many questions about our consumption patterns arise. In this context of health and economic crisis, Human Resources Without Borders (RHSF) is mobilising to raise the alarm about forced labour and child labour, too often at the root of the products we consume.
To do this, the RHSF association is launching an innovative and interactive tool: The Explorer. This digital platform allows everyone to explore an unsuspected universe: that of international subcontracting chains and the dangers they pose to workers around the world.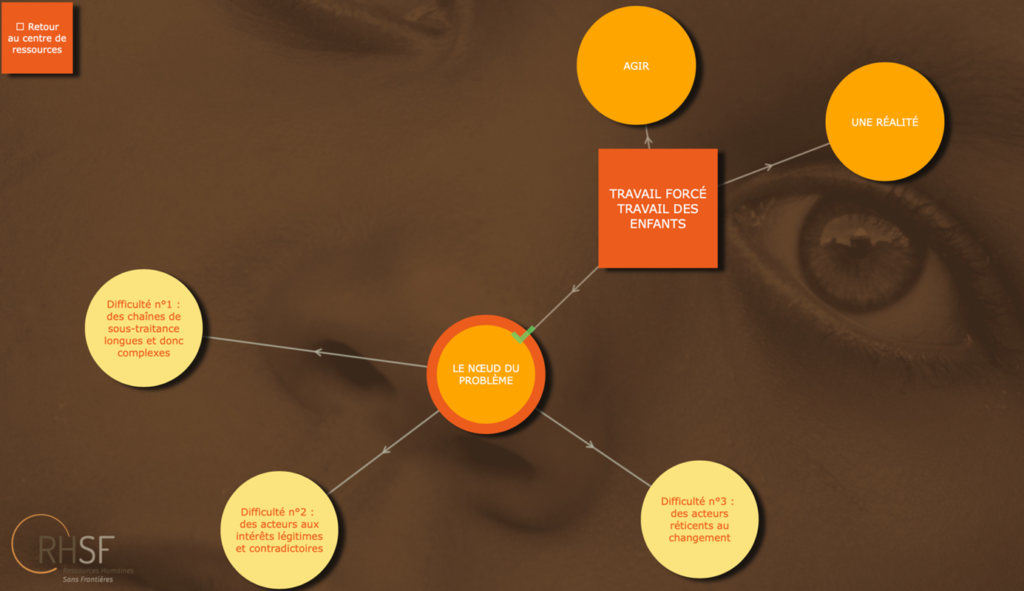 Discover the Explorer here.
In the Explorer, the Internet user navigates through the world of the global economy, effortlessly led by young actors, with the help of short videos, through the fascinating world of the workings of the global economy. A world where everyone – large companies, clients, shareholders, subcontractors, workers, consumers – should be able to satisfy their legitimate, if sometimes contradictory, interests.
Committed to the fight against child labour and forced labour in the subcontracting chain, RHSF works in the field both with clients and with the last links in the subcontracting chain to ensure that everyone has decent work.
This "exploration" gives us the keys to take part in this fight each at our own level, especially as consumers.
If Internet users wish to go further and become actors of change, they can express their rejection of child labour and forced labour and make a commitment in support of sustainable solutions on the RHSF website, by joining the RHSF Movement, through a major campaign launched in November.
Everyone has a role to play in ensuring that everyone, here and elsewhere, enjoys decent working conditions.
Our RHSF press kit is available on request.
Press contact :
Stéphanie Henrion
s.henrion@rhsansfrontieres.fr
06 25 82 08 83
About RHSF :
Ressources Humaines Sans Frontières (RHSF), a "general interest" association, has the mission of preventing the risks of child labour, forced labour and, more broadly, indecent work in subcontracting chains. RHSF relies on its international network to propose an effective field approach. It focuses its action on testing pilot prevention solutions with companies and their subcontractors, and sharing its expertise with all those working for decent work throughout subcontracting chains.