Published on Jun 06, 2019
The RHSF team is pleased to invite you to the Great CSR Trial. A great adventure in which we have been participating for 4 years!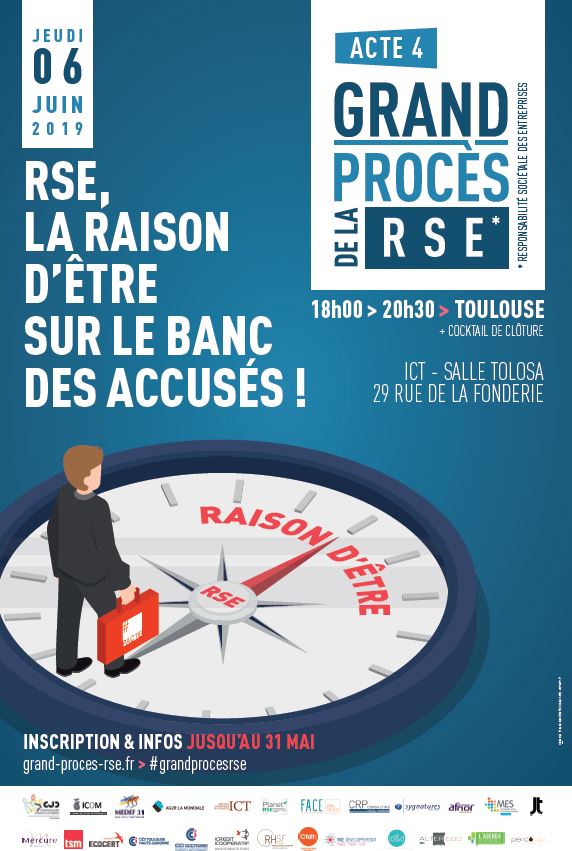 Every year, it is an opportunity to send the fictional CSR character to the dock, each time charged with different charges in order to get to grips with all the facets of CSR. This year, the charges relate to the company's raison d'être. Who is behind this innocent looking character? Is he really there for the good of the company?
In the role of defence lawyer, I ask Geneviève Ferone-Creuzet! A pioneer in social and environmental rating, a specialist in CSR, and Director of Sustainable Development at Eiffage and Veolia, she will develop an analysis and arguments that will enlighten the members of the "jury" and help them make the right decisions.
The prosecutor will be played by Denis Clerc, economist and founder of the magazine "Alternatives Economiques"! He is the one who can support where it hurts, denounce the double talk and the discrepancies between the sometimes very praiseworthy intentions and the reality of the facts.
The judge will be interpreted by Jacques Igalens, a teacher-researcher at the Toulouse Business School, specialised in HR and CSR.
Business leaders from Occitania will draw on their experience in the field to act as witnesses.
And the jurors? It's you! Come to the Grand Trial to decide whether the CSR character should be acquitted or convicted. See you on 6 June 2019, from 6pm to 8.30pm at the Institut Catholique de Toulouse (metro Palais de Justice)!
To participate, register now (limited places)
Entrance fee: 10 €.
Looking forward to seeing you there on June 6th!