Cartoon as an extraordinary way to fight against forced and child labour
Published on Mar 20, 2021
Owing to its unique way of communicating, cartooning emerges as an incredible medium to conjointly address sensitive issues and be understood by everyone. RHSF, in partnership with ILO*, is thus glad to announce the international cartoon competition on forced labour. Cartooning enables each and every of us to understand the wide range of forms that forced labour can take as well as engage us in the path towards finding solutions.
The 2021 cartoon competition against forced labour is launched to contribute to the frame set by the United Nations through the 17 Sustainable Development Goals. Goal 8 aims more specifically to promote sustained, inclusive and sustainable economic growth as well as full and productive employment and decent work for all. So as to support and achieve this necessary and ambitious program, Alliance 8.7 – presided by France since June 2019 – focuses on the means to combat forced and child labour through a coordinated and global action. Last but not least, 2021 has been declared the International Year for the Elimination of Child Labour. Despite the threats caused by the pandemic, it is time to act by developing the possibilities offered by this noteworthy background to eradicate forced labour.
Capturing the complexity of forced labour and child labour with cartoons
Forced labour is characterized by an entanglement of causes, consequences and actors – workers, contracting companies, suppliers, intermediaries… Engaging in such a complicated issue requires to decipher and explain the interactions between those publics. In order to be prevented and eradicated, the risks encountered by workers need to be identified as thoroughly as possible. Moreover, workers often do not have access to their rights. The drawings can thus be a medium for all of you to capture this complex issue and drivers of actions as well as the rights and obligations of every stakeholder.
Cartooning appears all the more as a universal language to sincerely and effectively address a global and complex situation such as forced labour and child labour. Cartoons have always had the mission to shed light on social and political imperfections by seducing viewers with the inspirational and emotional elegancy of drawing. The basis of their potential lingers in the very essence of cartooning itself. Although deprived of any word, it is yet understood by all. Cartoons are influential communication tools to emphasise the emergency of an immediate and valuable action in favour of the victims. According to Vladimir Kazanevsky, one of the greatest Ukrainian cartoonists, the strength of cartoons precisely dwells in their capacity to reach out to a wide audience. He pinpoints that: "When cartoons appear on the pages of newspapers and magazines, on TV, on the Internet, millions of people can see them. Cartoons in a bright, witty form will help draw people's attention to the problem of forced and child labour".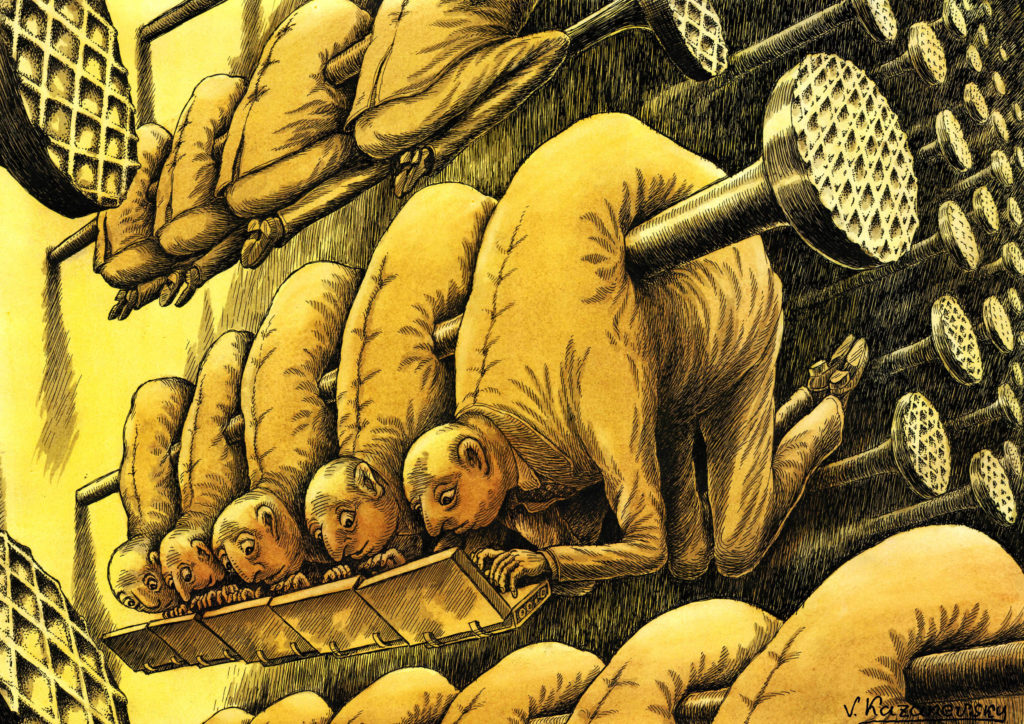 International footprint of the cartooning competition
The first edition of the cartoon competition that took place in 2015 under of chairmanship of Plantu along with the participation of the Malaysian NGO Tenaganita and the partnership of Cartooning for Peace was, in every regard, a remarkable success. No less than 300 uncompromising cartoons, drawn by more than 120 cartoonists from countries all over the world, were presented. With the support of Caritas Internationalis, the exhibition was disseminated across the globe and managed to sensitize more than 20 000 people. In addition, it was presented in prestigious places, such as at the United Nations Headquarters in New York as well as at the French Senate and at the UNESCO in Paris. It was also displayed at the Vatican and at the Ministry of Justice in Luxembourg.
Commenting on the success of this edition, Martine Combemale – the founder of RHSF – highlights that: "The first edition showed cartoons were an incredible medium to understand the invisible and – more importantly – those who stand in the shadow: workers and children in situation of forced labour. Cartoonists gathered their talent and energy to spotlight the existence of those who work for us without our knowing".
This new edition, built on the triumph of the first cartoon competition, is organized by ILO and RHSF in collaboration with Cartooning for Peace. Its theme stands in three words: refuse, understand and take action. Three words that our members already know very well as the three convictions at the basis of RHSF's commitment. On top of the partners, additional new comers have joined the 2021 edition so as to illustrate the variety of stakeholders involved in the prevention of child labour and forced labour. All partners will be represented in the competition jury which will also welcome two very special guests: Anousheh Karvar, Chair of Alliance 8.7 and Molly Namirembe, activist and former child labourer. The jury will have the honour to grant three awards, in particular the award devoted to Forced Labour of Children on this special year and aiming to encourage stakeholders to deepen their efforts to put an end to child labour. Also new in 2021, two awards will be granted: People's choice award by public voting and finally the "Coup de Coeur" chosen by Cartooning for Peace.
Dialogue and cooperation to bring concrete actions
RHSF members are truly convinced that sustainable and effective improvements can only be accomplished through dialogue and cooperation. Indignation is compulsory but insufficient. Abolishing forced and child labour requires that all actors work earnestly together, because a complex situation can never be resolved with an easy solution.
RHSF is delighted to initiate once again a cartoon competition and to be able to work hand-in-hand with the ILO and all partners. Such a formidable experience is indeed an incredible opportunity to raise awareness and to strengthen relationships among stakeholders.
* ILO = the International Labour Organisation is a UN agency.